Our condensed install schedule is by far faster then standard terrazzo and other similar products. Contractors are delighted with Deco-Pours "user friendly" install schedules.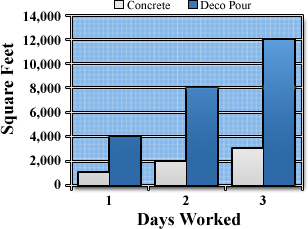 Using a standard four-man crew, we are able to install in excess of 4,000 square feet of Deco-Pour per day. With standard cementitious terrazzo you are installing approximately 1,000 square feet per day and then waiting approximately 5-6 days to begin grinding. With Deco-Pour you are grinding the next day! Deco-Pour Terrazzo & Decorative Overlayment products can sustain foot traffic four hours after it's been poured!
Standard cementitious terrazzo must be poured a minimum of 1/2" thick which can present problems in many applications due to elevation issues. Often times you may run into environmental "green" issues when having to use epoxy terrazzo to solve elevation issues. Deco-Pour solves this problem by having our product poured from as thin as 1/16" thick, alleviating most elevation issues.