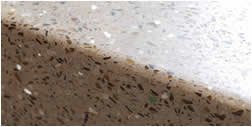 Deco-Pour™ Terrazzo
Deco-Pour™ Terrazzo is the mainstay of our product line. It is our solution to the difficulties incurred when installing standard terrazzo systems - such as high cost, slow installation and sustainability & high VOC. Poured at 3/8", Deco-Pour™ is comparable to any terrazzo product on the market. Custom colors are produced using any of the Benjamin Moore or Sherwin Williams Paint Product Line. Available aggregates include glass, marble, mirror and exotic shell and more!
---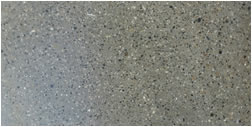 Deco-Pour™ Polished Overlay
Deco-Pour™ Polished Overlay has the same inherent qualities as Deco-Pour™ Terrazzo, but without added aggregates. Deco-Pour overlay has the appearance of polished concrete with salt and pepper aggregates throughout. The result is a beautiful, integrally colored floor with a highly polished finish. Custom colors are produced using any of the Benjamin Moor or Sherwin Williams Paint Product Line.
---
Deco-Pour™ over Wood or Tile
Deco-Pour™ has eliminated the need to remove wood or tile flooring before installation. We can easily apply one of Deco-Pour's™ products over your existing wood, tile or any solid bondable surface, saving you time, money and the need for disposal of existing surfaces.
---
Deco-Pour™ Sound Control System
We have partnered with Enkasonic to provide our customers with an integrated sound control system. This system, coupled with Deco-Pour's™ patented process, will greatly decrease the amount of sound transferred through the floor.
---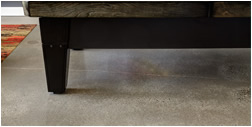 Polished Concrete
Polished Concrete is a long-lasting, maintenance free finish that hardens the actual surface of your concrete floor, eliminating the need for harmful and non-lasting coatings and sealers. We enhance your existing concrete by using a true 7 step diamond polishing process, thus eliminating the cost to replace consumable floor covering. Polished concrete can be stained to match any decor, providing extremely long lasting value and beauty.
---
Read about the benifits of Polished Concrete on ConcreteNetwork.com
---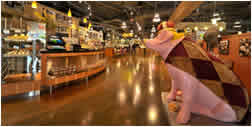 Deco-Pour™ Concrete Dyes
Deco-Pour™ manufactures vividly colored water-based dyes for Polished Concrete and are available to the industry and their clients. Dyes are available in the top 10 nationally specified color range delivering an economic solution, yielding on average 1500 square feet per gallon at a two application rate.
---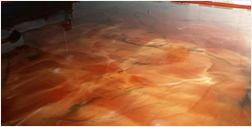 Reflector Enhancer
Epoxies have evolved over the years and have just gotten better and better. Today with the advent of Metallic epoxy floors or REFLECTOR™ Enhancer Flooring Systems we are taking epoxies and resinous flooring to a whole new level. These metallic floor coatings use metallic powder to create depth and originality never seen in a coating before. REFLECTOR™ Enhancer Flooring Systems combine the durability and strength of Epoxy with the decor options of custom paint and natural chemical reactions that provide a truly unique floor system.
---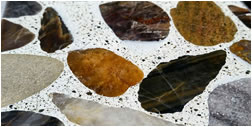 Deco-Pour™ venation Terrazzo
Love the look of the detail in the rocks in polished concrete or Terrazzo? With the new Deco-pour Venation Terrazzo we use extra-large aggregates so you have more control of design options and see more stone detail. You can create borders or pathways in the natural overlay for that extra unique finishing touch. Create truly inspirational project with our ton of aggregate options for another 1 of a kind flooring system from us to you.
---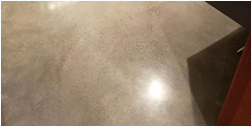 Deco-Pour™ trowel down 1-2 step polish.
Love the look of the monochromatic natural overlay but looking for some texture and variation? We have developed a system just for you. Bring the depth you want with the shine and the small aggregate for the Deco-Pour Natural overlay for cheaper. With this system we pour, power trowel, one or two step polish and provide you that stunning concrete overlay look, for customers who don't have a full concrete overlay in there project budget. This product is also so versatile it can be applied to verticals such as: walls, pillars, bar/ counter fronts, wall partitions and more.
---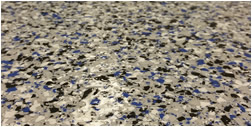 Clinical Plus
This finish coating for prepared concrete comes equipped with Antimicrobial technology. SPARTACOTE® PURE Clinical Plus™ is tested, vetted and proven in environments where cleanliness is a top priority, such as hospitals, clinics, animal shelters, veterinary facilities, pharmaceutical production areas, bathrooms, locker rooms, and food production.
---